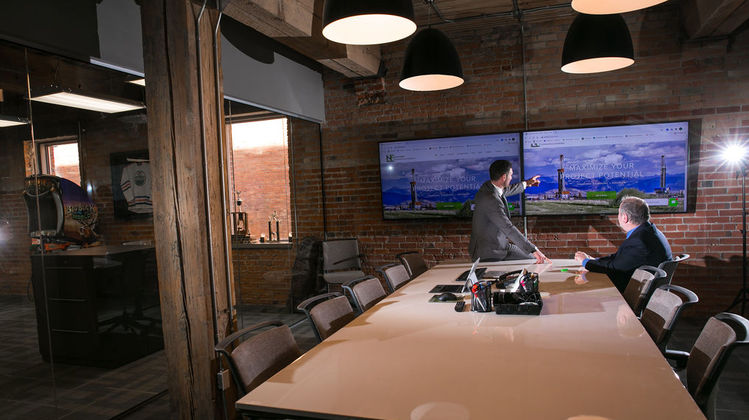 NLF Advantage
April 30, 2021
To say it's been a challenging business environment over the past several years is an understatement. Global market unpredictability, oil price volatility, political unrest and a worldwide pandemic has forced companies and industries to rethink how they invest.
The oil and gas industry has been no different and has made substantial improvements through these demanding periods. Companies adapted and advanced operational efficiencies, workplace productivity, environmental stewardship, drilling & completion techniques, tools, equipment, safety and improved oil recovery and production. It is remarkable to look back at what was and what is now. Many of these changes have come at an exponential rate through the necessity and evolution of innovation, software and technology.
One of the most substantial differentiators at NL Fisher is our commitment and investment into technology and software. Since 2013, NL Fisher Supervision & Engineering (NL Fisher) has invested 48% of its annual EBIDTA into software development and our clients stand to benefit.
NL Fisher's interests in leading-edge software applications EIM/Oiltunes, Plainview/HourGlass and Jousta were sold as these businesses were established as separate, wholly- owned subsidiaries of the MyCon Group of Companies. Today, NL Fisher no longer owns, but is a client of, Oiltunes, Plainview and Jousta.
"Our new organizational structure reflects the expansion of NL Fisher's service offerings and the maturation of the software businesses, said Mike Cameron, President and CEO of NL Fisher Supervision & Engineering. "Now NL Fisher clients can directly enjoy the benefits that EIM/Oiltunes, Plainview and Jousta can bring to their businesses."
"We've also made changes to our team. We are also more disciplined, resilient, ready and determined on providing industry-leading customer service to our clients," added Mike. "NL Fisher remains relentlessly committed to maximizing value for our clients by managing our clients' capital as if it were our own."
The on-going global impact of COVID-19 is the most recent and profound challenge that the oil and gas industry faces. It continues to decrease oil and gas demand resulting in persistently low commodity prices. Companies have been forced to adapt, re-think investment strategies, become leaner, save money, and perform at the highest level of efficiency and productivity.
NL Fisher has a focus on safety, efficiency, accuracy, innovation and technology that continues to be the hallmark of our business. It has enabled us the ability to cost less and outperform others while maximizing the potential of our clients' projects.
Many operators have reduced capital expenditures, cut dividends, substantially reduced workforces and stretched what little E&P dollars they had further than ever. This puts increased pressure on ever-smaller in-house drilling departments to deliver results they may not be resourced to deliver. This is where we come in.
"I believe now, more than ever, NL Fisher's service offerings could benefit our client's efforts to achieve their drilling, completions and construction objectives. We cost less. We have a proven track record of delivering results. And we don't have the same in-house G&A overhead," explained Mike. Our results speak for themselves. Since 2015, on behalf of our clients, we've:
drilled ~450 wells for a total measured depth of over 1,500,000 metres.

drilled more than 655,000 metres of horizontal length.
averaged ~370 m/d.

managed more than $614,000,000 of total client AFE costs.

achieved a variance to AFE savings of approximately -$1,300,000 or - 0.22%.
Contact us at info@nlfisher.com for more information. Follow us on LinkedIN, Facebook and Instagram to get ongoing social media updates.