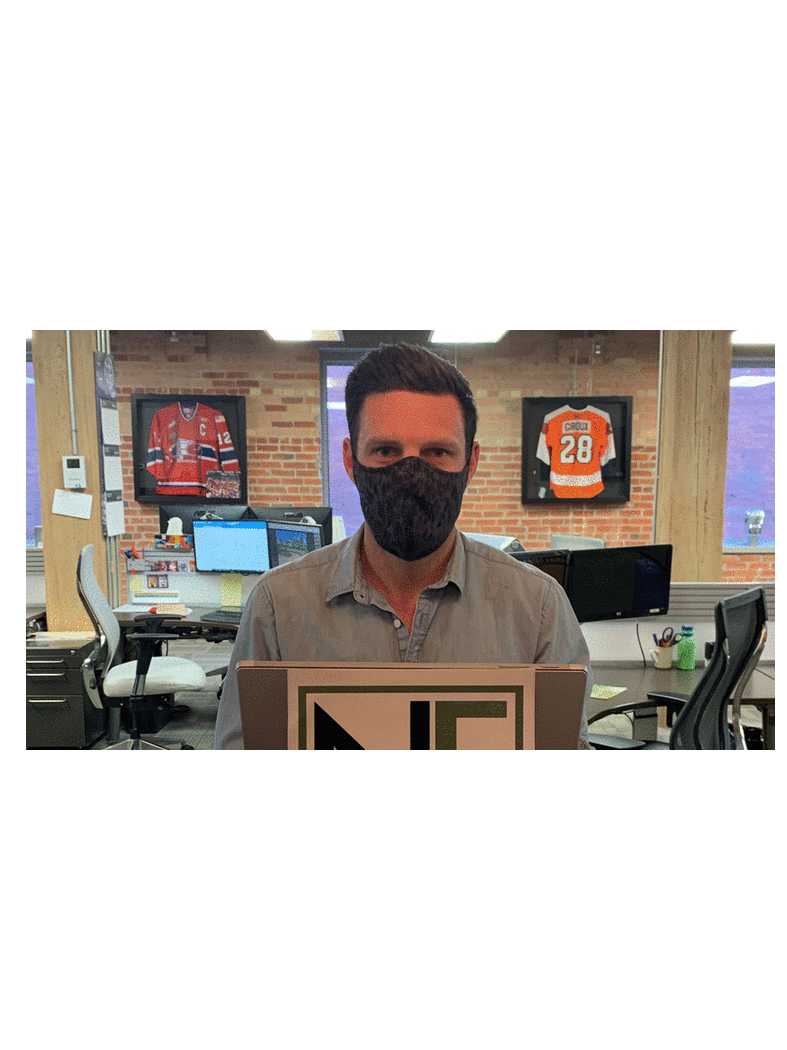 Creative Marketing and Community Outreach
June 3, 2021
Where else can we improve our deliverables, customer service and showcase what NL Fisher Supervision & Engineering (NL Fisher) is all about? Why not start with our Executive Sales and Marketing Representative Chris Bruton. Our industry has adapted to changes in the working environment – so too has the sales and business development setting. "The ability to meet people face-to-face and have an in-person conversation is harder to do now, more than ever before," said Chris. "It has forced us to get creative and find ways to connect and share our story with prospective clients."
Due to Covid restrictions, there has been many challenges and restrictions on visiting clients, having in-person meetings and presenting to groups. Chris has had to get creative. He began two marketing outreach programs that encompass his personality, develop community and work relations and speak to what NL Fisher stands for.
The first outreach campaign is a 10-minute corporate deck run through done via video conference. With years of experience presenting to groups, Chris knew the challenge in this new business environment would be keeping those engaged, interested and keeping it fun. This is especially difficult when the presenter is off-site, and others can be often distracted or looking down at their phones.
The presentation is timed to run for no more than 10-minutes with questions going out periodically throughout the presentation to keep those listening. There is also a game played where if the listeners can answer four of the five questions shown at the start and then answered at the end, they receive a gift card to Lil E Café' an NL Fisher favorite. Lil E Café' employs and creates opportunities for those with intellectual disabilities. "The game and questions create engagement and a little more motivation to sit upright, listen and obtain valued information while supporting a great local business," said Chris. "And who doesn't want to win a prize?"
Brennan Paul at Boulder Energy was recently presented to and had this to say. "I thought Chris did a great job creating engagement through a virtual presentation, which is not an easy thing to do. It was very creative to insert a game and make it fun. I learned a lot from the presentation and was happy I could support a great local business that I was unaware of."
The second outreach campaign is the NL Fisher Fit Club 4 Charity. With Chris's background as a professional hockey player, his passion for exercise and athletics and his certification as a personal trainer, it was only fitting that he wanted to get involved in the health and wellness of NL Fisher's employees. This quickly grew to incorporating others in the community including clients and friends. Pete Cameron, NL Fisher's Construction Manager was hesitant to join at first. "I'm not a stair guy and I am not exactly built for speed. But running as a group, raising money for a great cause and the camaraderie brings a little more motivation to every Thursday afternoon."
The group meets at a stair set every Thursday at 5pm and for every member that participates, NL Fisher donates $5 for every participant showing up and $1 for every stair set run. The money raised this year will be donated to motionball which is a national not-for-profit organization whose mandate is to introduce the next generation of donors, volunteers and sponsors to the Special Olympics movement through integrated social and sporting events.
"We are big believers a healthy mind and body create a better person and community. At NL Fisher we are grateful to our clients, community and the industry for how much it provides, and it is paramount to us we give back." - Mike Cameron NL Fisher CEO and currently stair set leader.
Check out NLFisher.com/news often for more stories on how we provide data-proven outcomes to our clients. Or you can follow us on LinkedIn, Facebook, and Instagram to get instant updates right in your favourite social media.