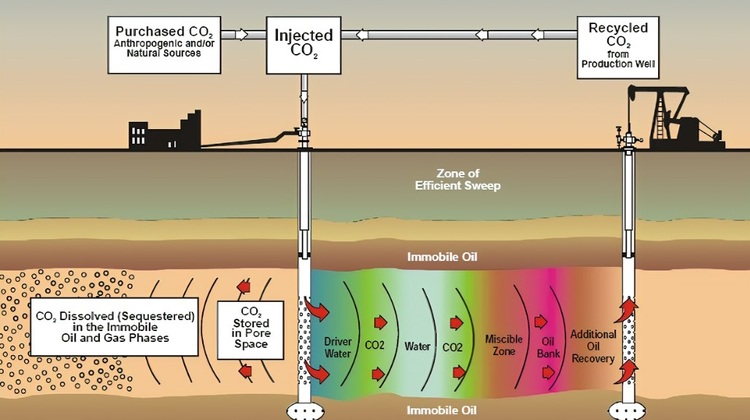 CO2 Capture, Storage & Sequestration
February 23, 2022
An "Injection" of Economic Opportunity and Ecological Progress
The Canadian Government has proposed wide-ranging carbon credit and incentive programs to promote the reduction of greenhouse gas (GHG) emissions and carbon emissions in particular. By placing a price on carbon pollution, the federal government is directing industries to become more efficient and to adopt cleaner technologies, spurring new and innovative approaches to reduce pollution. At the same time, the Government of Alberta has committed significant resources to two commercial-scale carbon capture and storage projects with a view to significantly reducing CO2 emissions from the oil sands and fertilizer sectors.
The combined effect of the two programs has resulted in Alberta becoming a global leader in carbon capture, storage, and utilization.
Carbon Capture: Involves the separation and collection of emissions produced by industrial activity, agricultural processes and power plants that is then compressed and transported to a storage site.
Carbon Sequestration: This involves the process of injecting compressed CO2 into secure underground geological formations that can safely and permanently store the gas. After injection activity ends at the site, the site is tightly sealed and monitored to ensure there are no safety or health risks to the public or the environment.
Enhanced Oil Recovery (EOR): Also known as tertiary recovery, it uses the injection of natural gas, CO2, fluids, chemicals and thermal recovery to enable the extraction of oil that was not retrieved using primary or secondary oil recovery techniques.
World-scale carbon capture, carbon sequestration and enhanced oil recovery projects are being successfully developed throughout the Western Canadian Sedimentary Basin (WCSB) - and Alberta in particular. The combination of these three approaches provides the critical foundation to enable the reduction of greenhouse gas emissions while utilizing innovation and technology to provide economic and operational upside.
Industry benchmarks enable companies to assess and evaluate EOR prospects for various oil fields. The average recovery factor for mature oilfields is often in the 20%-40% range. (Muggeridge et al., 1995). Enhanced oil recovery methods can increase this extraction rate considerably. Applying this technology to drilling operations as well as revisiting aged oil fields has allowed for further extraction, thereby increasing the overall recovery factor.
Enhance Energy Inc. has been an industry leader in carbon capture and sequestration since its formation in 2008. This in turn led to its vision to develop CO2 for enhanced oil recovery. The company has achieved remarkable milestones including the 240 km Alberta Carbon Trunk Line stemming from the Northwest Redwater Partnership (NWR) Sturgeon Refinery and Nutrien's Redwater Fertilization Facility (the ACTL System, 2021). This partnership and project have successfully supported carbon sequestration and enhanced oil recovery operations throughout Central Alberta.
Recently, the company announced plans for a new, world-scale sequestration project in Central Alberta. These are pivotal projects for emerging investment opportunities, economic development, job creation and the drive to move Alberta toward its goal of net zero emissions by 2050 (Enhance, 2022).
NL Fisher Supervision and Engineering Ltd. is currently involved and working with clients on CO2 sequestration projects in both British Columbia and Alberta. Importantly, NL Fisher has extensive engineering experience with acid gas (CO2 + H2S) injection. The engineering investigations and technologies that are employed to ensure safe and permanent disposal of acid gas are identical to those necessary to sequester CO2. NL Fisher also has assets with geological experience and background in this field to further support the success of these types of operations. As the industry continues to evolve and change, NL Fisher is committed to offering clients full cradle-to-grave project management, engineering, and supervision services for all project needs including CO2 sequestration and EOR.
Reference:
Muggeridge, A., Cockin, A., Webb, K., Frampton, H., Collins, I., Moulds, T. and Salino, P., 1995. Access NCBI through the World Wide Web (WWW). Molecular Biotechnology, 3(1), pp.75-75.
Enhance 2022. Enhance Energy announces the Origins Project, a Carbon Sequestration Hub in Central Alberta. [online] Newswire.ca. Available at: <https://www.newswire.ca/news-releases/enhance-energy-announces-the-origins-project-a-carbon-sequestration-hub-in-central-alberta-814211988.html> [Accessed 25 January 2022].