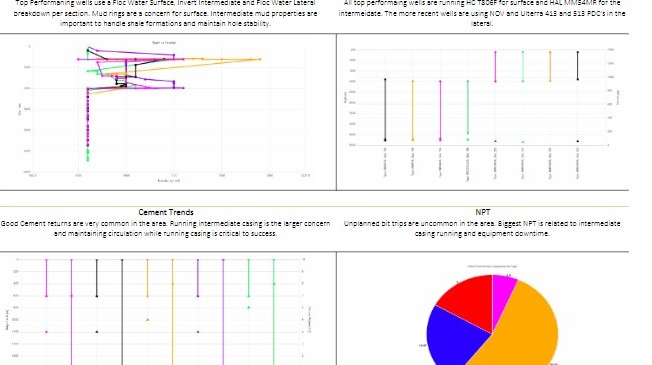 NL Fisher's Hot Shots: A Data Snapshot for Your Next Drilling Program
February 1, 2021
Gathering intel on peer activity in a play isn't new to the oil patch. Successful operators have been interested in off-setting well information for decades.
But gathering this info is time consuming, tedious and often ends with an incomplete picture about why some drilling programs achieve better results than others.
It doesn't have to be this way
NL Fisher Supervision and Engineering (NL Fisher)'s Hot Shots summarizes complex info gathered from multiple sources into a simple, straightforward summary that's easily shared and understood. With Hot Shots, you can quickly and easily tap into insider knowledge on drilling fluid, bit and cement trends. You can integrate peer drilling KPIs such as depth and metres/day into your planning. You can see drilling curves for the top 5 wells drilled nearest your target.
Are you planning your next drilling program in the Pembina/Cardium? We've got a Hot Shot on that. Kaybob/Montney? Charlie Lake? Ferrier? Check. Check. Check. Somewhere else? We've got you covered.
"To get the best results, you want to know what's happening in the area," said Adam Marsh, Senior Drilling Engineer, NL Fisher. "Hot Shots are a simple, straight-forward and easy-to-use benchmarking tool available to our clients that easily summarizes peer activity in the area, providing valuable data points for their drilling programs."
We crunch the numbers, you get better results
NL Fisher has supported our clients' successes in the Western Canada Sedimentary Basin (WCSB) since 1988. And we've been collecting, leveraging and augmenting publicly available data with our own operational data on every play in the WCSB since 2010. By identifying best-in-class operations and contrasting them with under-performing offsets, we've improved our performance and helped our clients achieve better, more predictable and accurate future results.
How does it all come together?
We've integrated our relentless commitment to data gathering and management with leading edge software, field-proven well construction techniques, data-driven offset analysis and a risk-based approach to technology. This effort, combined with the latest in drilling, completions and project management techniques, ensures we deliver improved capital efficiency, performance benchmarking, workflow management and engineering analysis to our clients.
Contact us today at info@nlfisher.com or (403) 266-7478 to see how NL Fisher's Hot Shots can successfully inform your next drilling program.
Find Out More
Check out NLFisher.com/news often for more stories on how we provide data-proven outcomes to our clients. Or you can follow us on LinkedIn, Facebook, Twitter and Instagram to get instant updates right in your favourite social media.