AFEMAX™

NLF is a member of AFEMAX™, an exclusive upstream oil and gas focused auction service aimed at reducing project costs and increasing service company utilization. The concept behind AFEMAX™ is to achieve the maximum unit cost reductions achieved through public reverse-bidding auction. The auction is a process in which sellers (service companies) bid for the prices at which they are willing to provide their goods and services to the Operator's project. The major benefits of AFEMAX™ are outlined below:
Cost reduction: AFEMAX™ significantly reduces the cost of the products by having service companies bid on the work. By having pricing information disclosed to all participants, repeat bids are encouraged, thereby lowering the cost of services.
Time sensitive: A finite timeline is set for every auction. Competitors will now have limited time to submit proposals, depending on buyer preferences. This eliminates the delays and confusion in conventional bidding scenarios related to the sealed bid process, normalizations, and clarifications.
A sample of the auction process: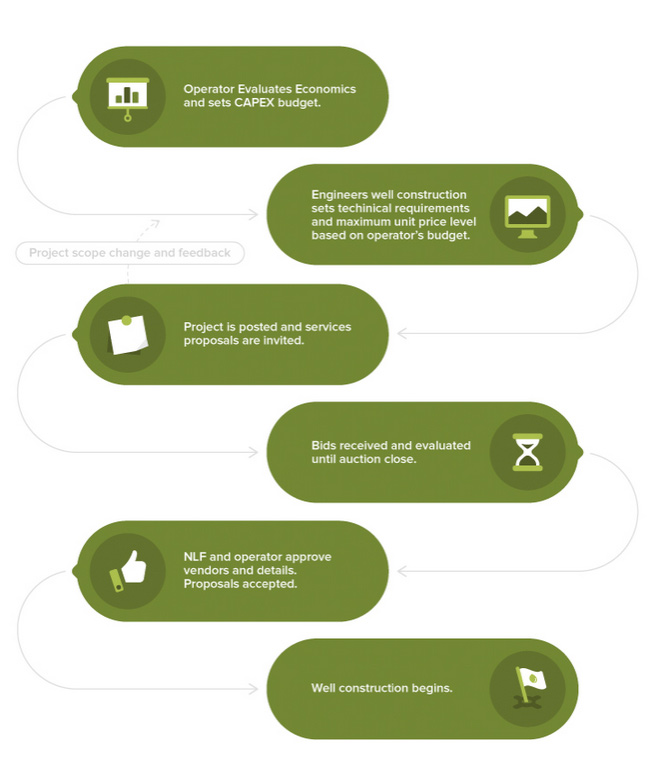 In order to maximize project potential, NLF bidders must meet purchasing requirements of the clients (SECOR, COR, COMPLYWORKS etc.). Furthermore, bidders are screened on the 3 NLF core competencies: safety, efficiency and accuracy.
Bids for services are then evaluated on a technical nature by NLF (or the client) to pass the minimum engineering requirements for project. A minimum technical standard (drilling/completions program) may be posted for bidders for evaluation prior to making a submission. Incomplete bids or sub-standard bids are rejected.